BBQ Pulled Pork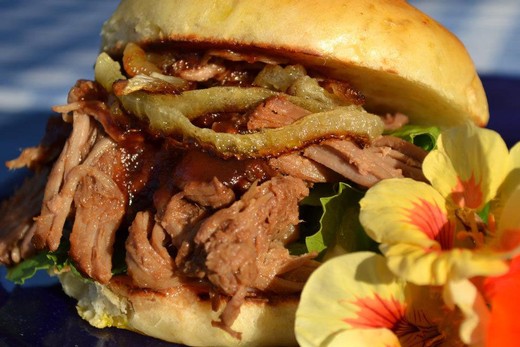 Recipe Date:
October 1, 2017
Measurements:
Imperial (US)
Ingredients
4 lbs Pork Shoulder Roast
6 Cloves
3 tbsps Dried Seasoning Blend
2 Red Onions, thinly sliced
1 1/4 cups Water
3/4 cup Citation Pinot Noir
16 ozs BBQ sauce of your choice
Directions
Rub the pork shoulder with the dried herb/spices and poke the cloves into the fat. Place your pork shoulder roast in a large, preheated crockpot. Add the red onion, ginger root, water and wine place the lid on and let cook for 8 to 10 hours. Remove pork and discard cloves and any liquid remaining in crockpot. When the meat is cool enough to handle, return to crockpot and pull apart with two forks. Add your barbeque sauce, heat all for one to two hours and serve on a sweet potato or other slightly sweet soft roll. Enjoy with a glass of Citation Pinot Noir.